This is an archived article and the information in the article may be outdated. Please look at the time stamp on the story to see when it was last updated.
An automatic pet feeder is an excellent tool to keep your pet fed and hydrated, but there is a caveat. It should never be a long-term solution when you aren't home. At most, you can use an automatic feeder for about three days.
However, when planning to get away for a weekend, an automatic feeder ensures that your pets have enough food and water. Most of them are great for dry food, such as kibble and snacks, but only a few are suitable for wet food.
In this article: Petlibro 25-Cup Automatic Feeder, PetSafe 5-Meal Cat Food Dispenser and Wopet Automatic Dog Food Feeder
Preparing for your vacation
Before you go on away, you must prepare your pet and the automatic feeder. There is no telling what will happen if something goes wrong, and you can't rely on the feeder working flawlessly without anybody checking up on it. It's always best to ask a friend or relative to ensure everything is as it should be.
In addition to running the feeder while you are home, train your pet with it to see how your furry friend reacts. Some animals take a while to get used to the internal components churning. Cats, especially, are cautious of anything strange and might be hesitant to go near it. This will be disastrous if you go out of town and your pets don't want to eat from the feeder.
Different kinds of automatic feeders
There are generally two kinds of feeders, and your pet could be more comfortable with one type than the other. The technology can also vary, with high-end models having a small display to indicate the feeding intervals and the amount to dispense:
Top feeders house the food in a receptacle and let gravity do the work at dinner time. There is an opening at the top for you to place more food, and there is usually a mechanism to help push the food down the chute.
Rotational or static feeders are less complex, but they still get the job done. These are usually circular gadgets (about the size of iRobot's Roomba) with several compartments for food. Once the timer is set, each compartment opens at regular intervals.
One of the most significant challenges for automatic feeder owners is making sure pets get enough food. If you have more than one, this is a daily struggle, as one could try to out-eat the other. There is an ultra-advanced option to combat this, where the feeder only unlocks or opens when it detects a certain pet chip or tracker.
Best automatic pet feeders for cats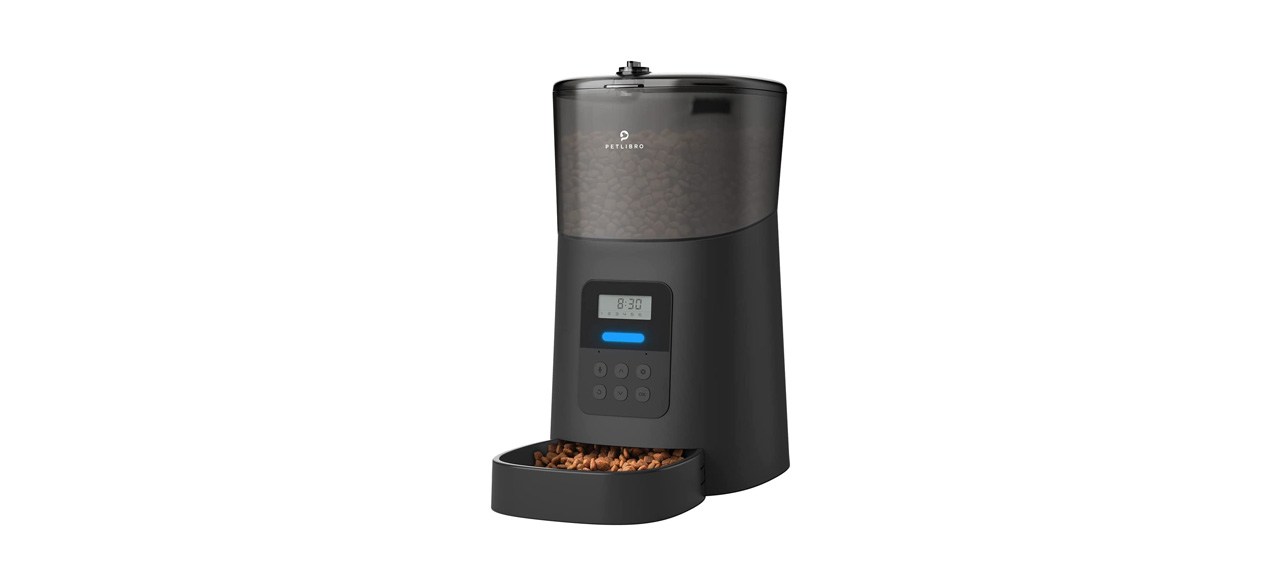 Petlibro 25-Cup Automatic Feeder
This is a high-end solution for keeping your cats fed, with an LCD display for setting up a schedule and a feeding capacity of 50 meals. It has an infrared camera so you can see your pets at night and a twist-lock lid to keep dry food crunchy.
Sold by Amazon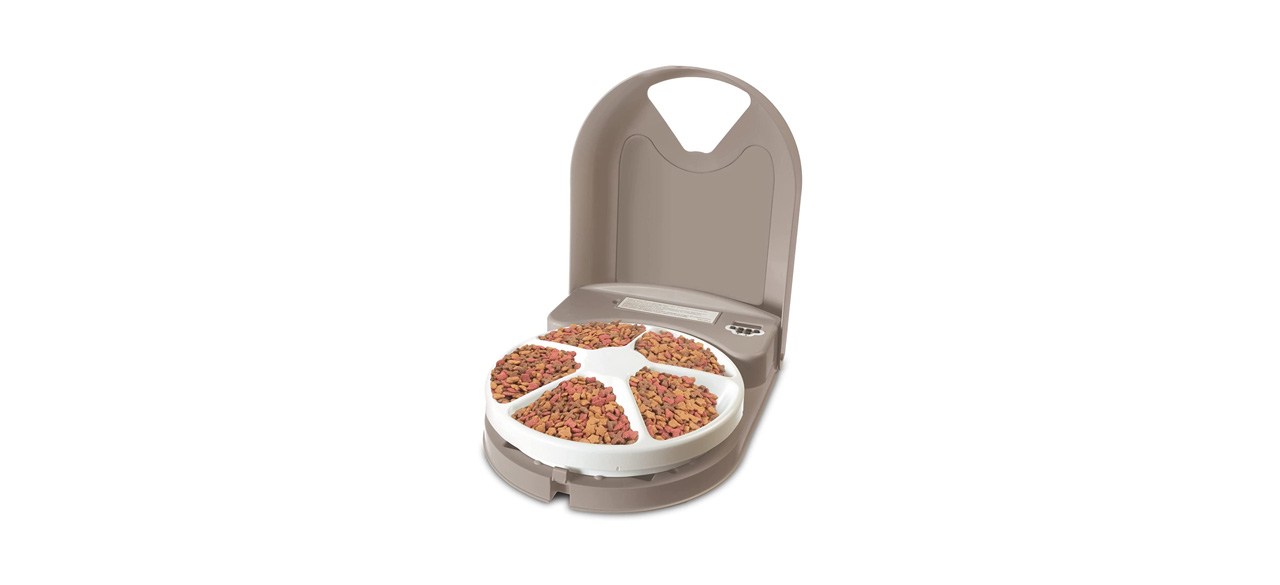 PetSafe 5-Meal Cat Food Dispenser
This is the perfect feeder if you want something that isn't too complex. It has five meal compartments and automatically rotates to the next opening based on the programmed schedule.
Sold by Amazon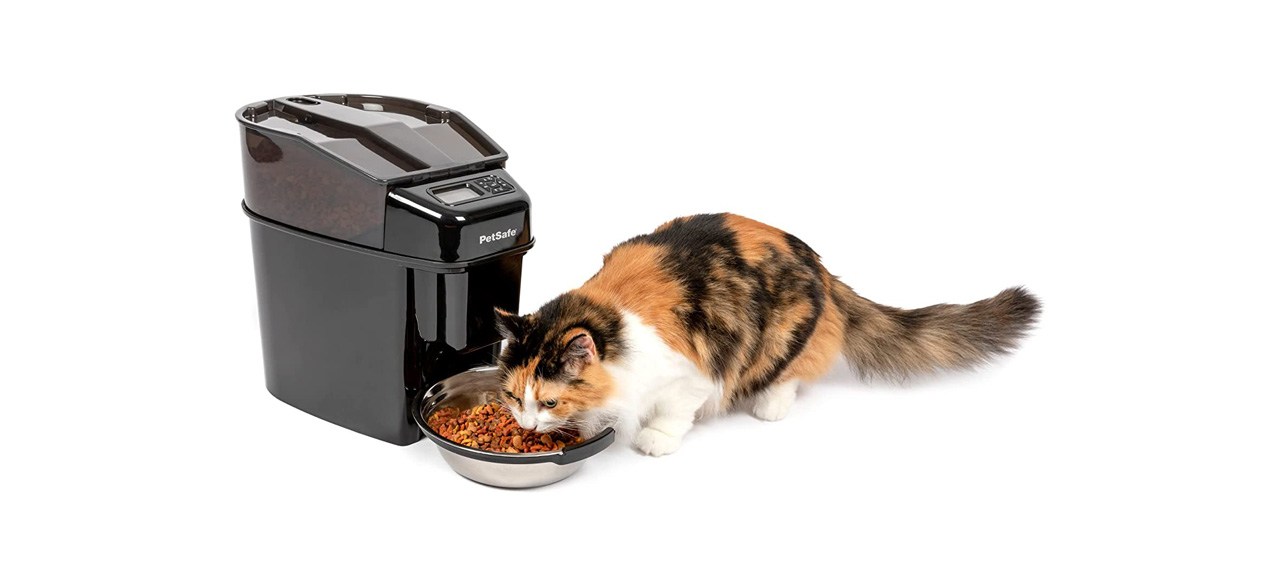 PetSafe Healthy Pet Simply Feed Automatic Feeder for Cats
This feeder lets you schedule up to 12 meals a day and is perfect for cats of any size. The portion sizes can range from a few bites to four cups per meal, and there are several programming options.
Sold by Amazon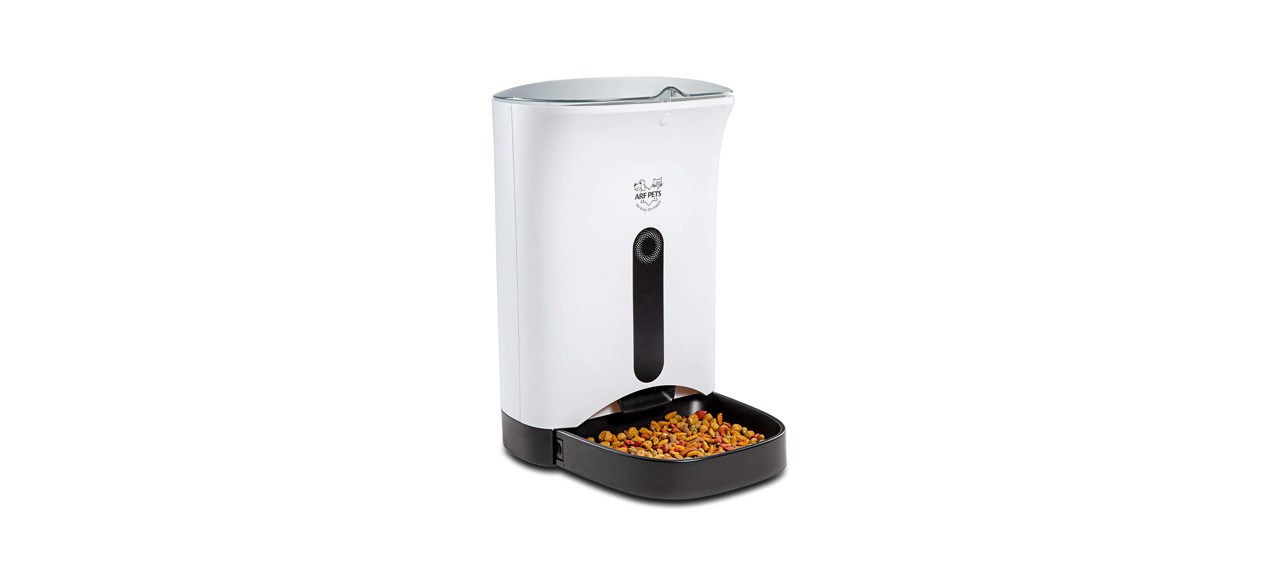 To make feeding time easier, this dispenser can supply your cat with between one and 10 meals a day. Meals can easily be scheduled over four alarm periods, and it has a magnetic lock lid to keep curious felines out. In case of a power outage, it can also operate on disposable batteries.
Sold by Amazon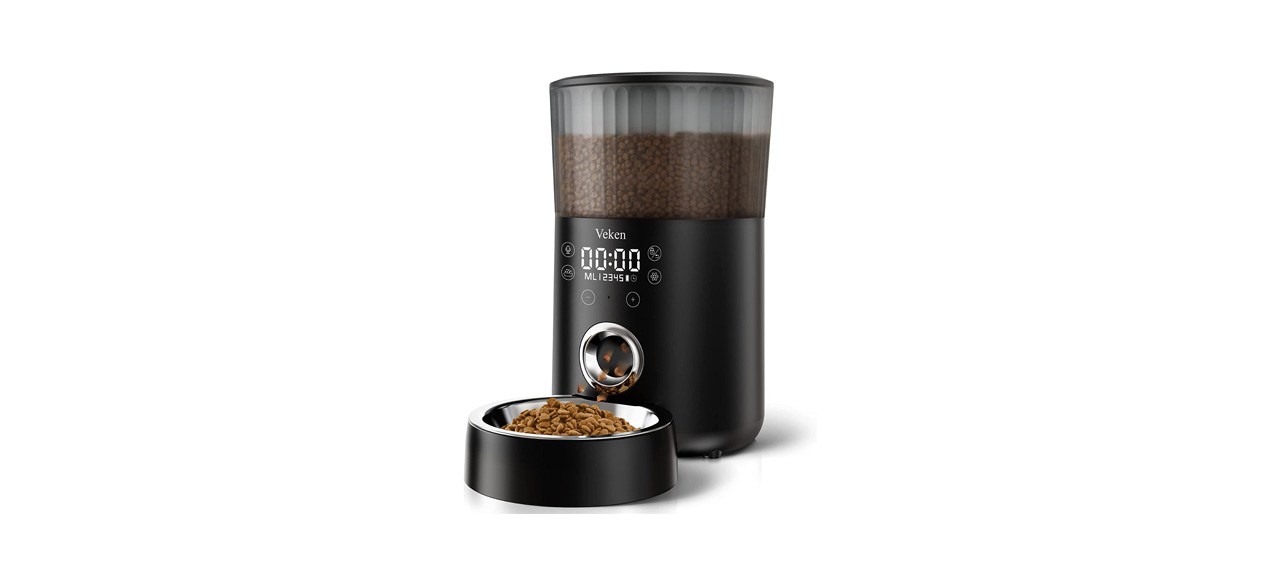 Another high-tech option, this automatic feeder has customizable feeding schedules, a battery backup system and a 360-degree transparent food storage container. An LCD display shows the time and feeding options, and you can record a voice message for when it's dinner time.
Sold by Amazon
Best automatic pet feeders for dogs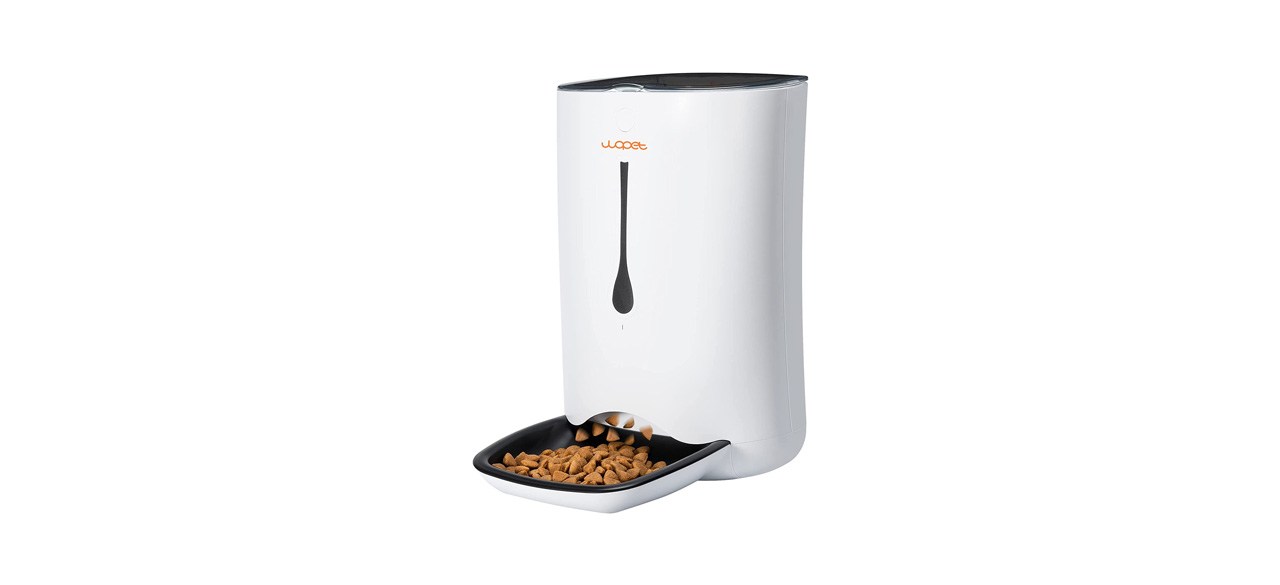 Wopet Automatic Dog Food Feeder
With up to four scheduled feedings a day, this has a customizable portion size selector that ranges from a few teaspoons of food to four cups. The removable tray at the bottom is machine-washable and the storage compartment can hold 20 cups of dry food.
Sold by Amazon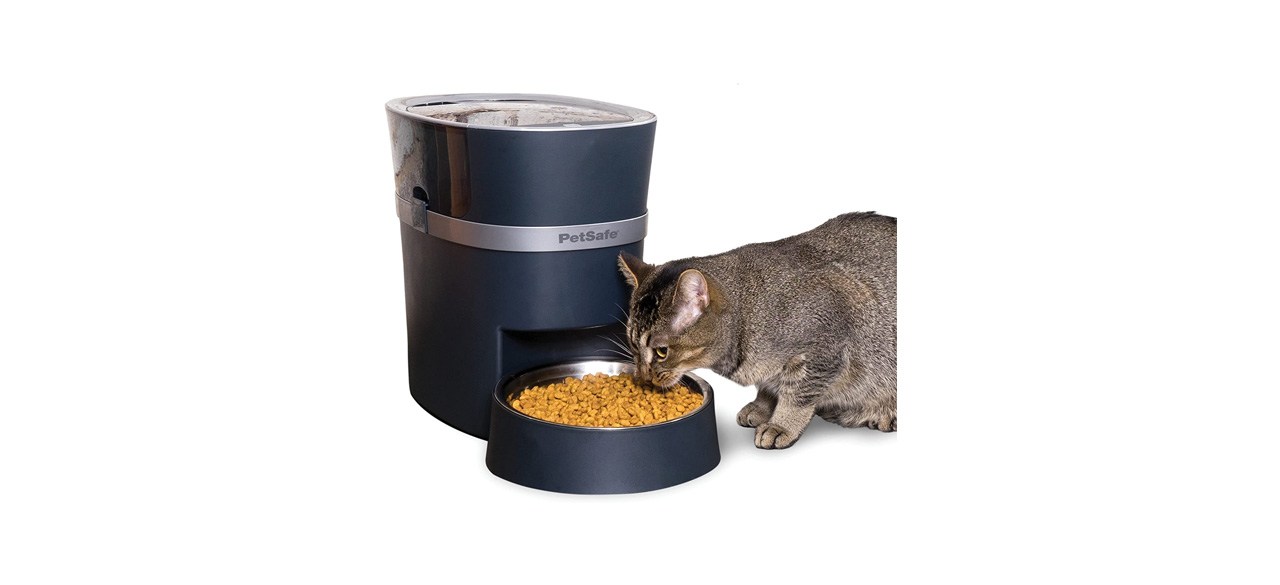 PetSafe Smart Feed for Cats and Dogs
The dog food feeder is also suitable for cat, and can hold a maximum of 24 cups. It dispenses between a few teaspoons and four cups in a single feed. It doesn't have a display like others, but you can easily program the feeding schedule through the Wi-Fi-enabled mobile app.
Sold by Amazon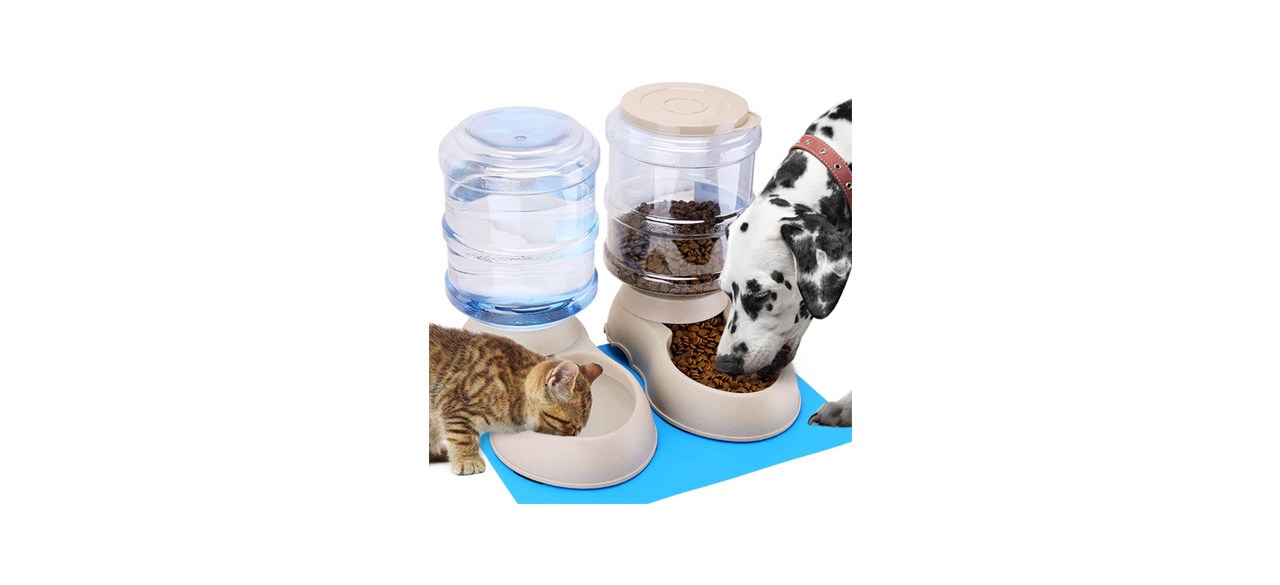 Pawzone 2-Pack Automatic Feeder With Water Dispenser
If you prefer a low-tech approach, this automatic feeder is excellent. It doesn't use complex systems but relies on gravity instead. The two-pack consists of a water dispenser and a feeder suitable for both cats and dogs. It can hold about six pounds of food and about a gallon of water.
Sold by Amazon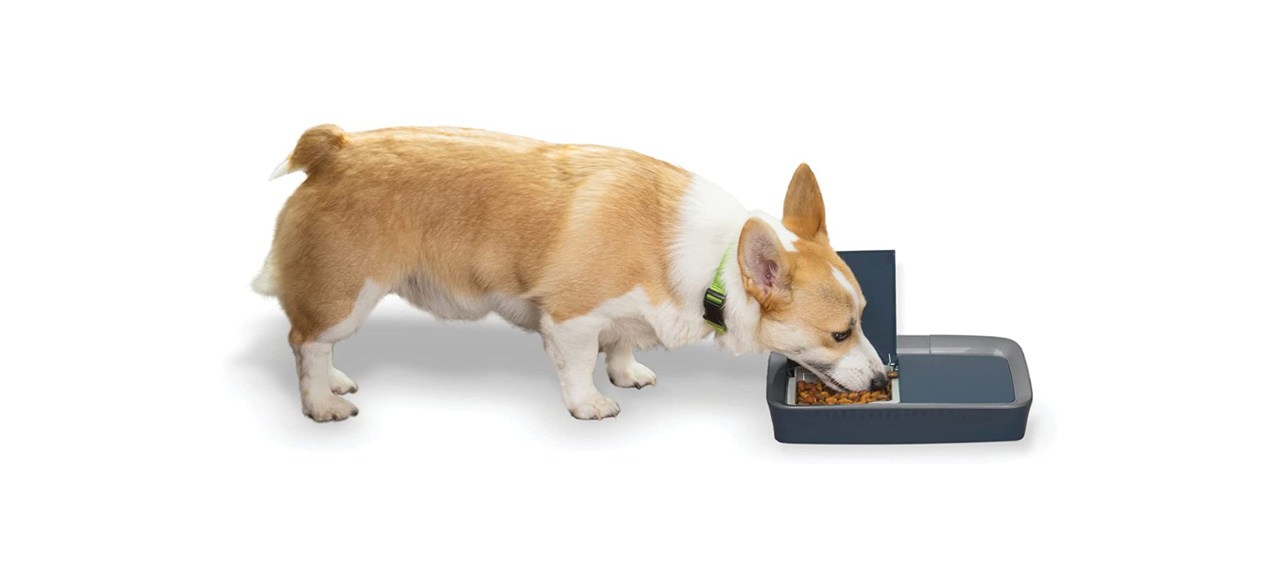 PetSafe Digital 2-Meal Programmable Pet Feeder
This automatic feeder is perfect for when you're only going away for a short time. It holds two meals and can easily be programmed to open at specific times. Each compartment is sealed with a pet-proof lid and can store almost two cups of food.
Sold by Amazon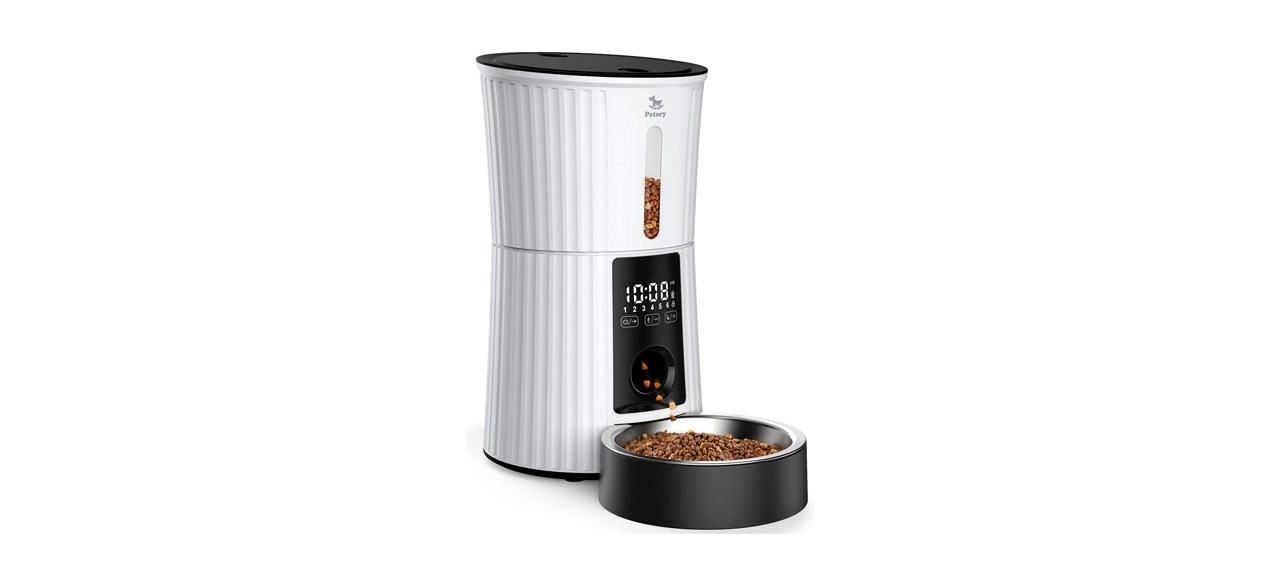 Petory Timed Automatic Dog Feeder
This feeder has a digital timer so you can schedule up to six meals a day, ranging from one to 50 portions of half an ounce each. The storage compartment has a small window to keep track of food levels, and it can hold about 17 cups.
Sold by Amazon
Want to shop the best products at the best prices? Check out Daily Deals from BestReviews.
Sign up here to receive the BestReviews weekly newsletter for useful advice on new products and noteworthy deals.
Charlie Fripp writes for BestReviews. BestReviews has helped millions of consumers simplify their purchasing decisions, saving them time and money.
BestReviews spends thousands of hours researching, analyzing and testing products to recommend the best picks for most consumers.
Copyright 2023 BestReviews, a Nexstar company. All rights reserved.